Benefits
From protecting recreational areas to covering parking lots, we supply a diversified line of custom and standard shade structures for almost any application.
Shade structures protect your outdoor equipment and site amenity investment while promoting a fun, welcoming environment for communities to comfortably gather in outdoor spaces.
Enhance your new or existing playgrounds, picnic areas or any outdoor area you want to make cool, comfortable and long-lasting for years to come!
Fabric Shade Structures
https://shade-n-net.com/shade-structures/
Shade-n-net produce the highest Quality manufactured structures, all within the USA and engineered and approved to withstand extreme wind loads up to 110 mph (or as required), we custom build every shade structure to any size, roof style, and color.
Custom: Stingray Structure
Hip Shade Structure
Shade Sails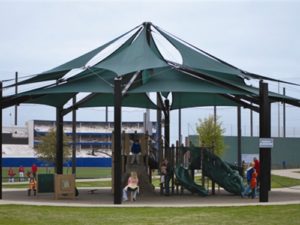 Metal Shade Structures
http://www.iconshelters.com/Products
ICON Shelters produce the most Durable, unique and completely customizable, our steel shade structures can be fabricated to meet your specific design needs. From raising or lowering the roof pitch, adjusting the eave height, extending the eave overhang or adding a roof tier or two, our line of industry standard shelters can be customized and accessorized for your site's unique needs.
Craftsman Series
Trail Series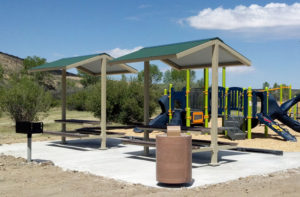 Visit Manufacturer's websites: